Over the next 8 to 16 weeks I will be adding some new replicas to the site. These will be a mix of replicas from my own collection and also some replicas that will be available for sale. See the list below. I also hope to change the site around a bit and re-photograph some of the trophies to show them off in a better light. All depends on my spare time!

Replicas that will be available FOR SALE:
FIFA Jules Rimet Trophy 24K Gold - (Full Size) - RARE!
FIFA World Cup Trophy Antique Brass - (Half Size) - RARE!
FIFA Jules Rimet Trophy V2 (Gold Leaf) - (Full Size)
FIFA World Cup Trophy (Gold Paint) - (Full Size)
FIFA World Cup Trophy (Gold Plaster Constructed) - (Full Size) 
Spanish Copa Del Rey - (Large and mini versions)
Spanish La Liga trophy - (mini)
Old European Champions Club Cup (European Cup) - (mini)
UEFA Europa League Trophy - (miniature)
UEFA Cup Winners Cup - (miniature)
FIFA World Club Championship - (miniature)
FIFA Intercontinental Club Championship (old) - (miniature)
FIFA Ballon D'Or - (3/4 Size)
UEFA Champions League Medals

Replicas I'll be adding from my own collection (Not For Sale):
UEFA Europa League Replica - (Half Size)
UEFA European Championship Replica - (Full Size)
FA Cup Replica - (Full Size)
FA Premier League Replica - (Full Size)
FIFA World Cup Replica 24k Gold - (Half Size)
Various Mini and Miniature Trophies
Various Medals


This is the first time I've seen a picture of the Copa Del Rey trophy that Real Madrid's Sergio Ramos famously dropped underneath the team bus amid the celebrations in Madrid in 2011. According to Ramos "The cup fell, it fell. But the cup is OK." Well if that was repairable Sergio, I've seen it all. Ouch!
http://www.telegraph.co.uk/sport/sportvideo/footballvideo/8465404/Real-Madrids-Sergio-Ramos-drops-Copa-del-Rey-trophy-off-bus.html

Bayern Munich supporters hold up a homemade replica of the Champions League trophy as they gather on the streets of Munich, Germany.   (AP Photo/Frank Augstein)
Not as refined an effort as our Dutch friends below!!

These Dutch fans showed some rather impressive improvisation in making thir own replica European Championship trophy. Although the shape is a bit bloated and the finer details added in felt marker (!), it was nonetheless a valiant effort. Pity the Dutch team couldn't match that effort on the pitch!

This 1.5mm micro sculpture world cup, made from a speck of gold, is surely the smallest replica trophy in the world. 
Willard Wigan, 44, spent three weeks working on the 1.5mm bit of 24 carat gold, using a tiny diamond chisel to cut it into the shape of the famous trophy. The result is a stunning work of art so small it can stand on the end of a nail and a microscope is needed to see it in full detail. Previous Willard Wigan micro sculptures have sold for £100,000, but some have ended up lost -- he dropped three of the tiny World Cup sculptures before completing this one.
Stunning, but must be painfully tedious to make one of these. And pricey, especially for something that you could lose in the blink of an eye!
World Cup Replica Trophy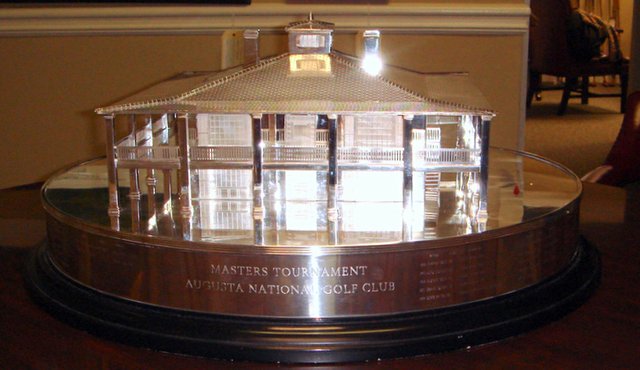 I came across this article from last week on golfweek.com - $140,000 asking price for this scaled up replica of the Masters Trophy, which is currently being sold by a private collector. I love replica trophies, but I can think of a thousand things to do with $140k before I'd spend it on a trophy! One for the millionaire collectors of the world.
Masters Golf Replica Trophy